We all have treasured photos from our past that we consider irreplaceable. From formal shots of forebearers arriving in America to simple photos from elementary school in the days before digital, these photographs serve as touchstones to our personal history.Unfortunately, sometimes these irreplaceable photos weren't always well cared for. Stacked in drawers, stored in acidic envelopes or framed in rooms with high sun exposure, many of these memories are in danger of being lost forever.
With Monster's professional photo restoration services. We take your priceless photographs and carefully scan them in at ultra-high resolution. From there our team of professional photo restoration experts meticulously analyzes the photo, sometimes pixel by pixel, and restores it to its original glory.
In a short time, you'll have a restored print of your photo as well as a digital copy you can preserve for any future generations. Perfect as gifts or just for peace of mind, you'll love the results and the ease of our digital photo restoration process.
Black and White to Color done by Monster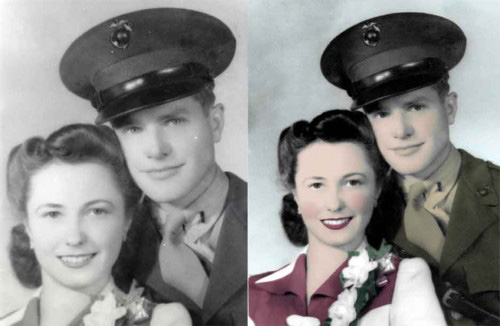 1175 American Pacific suite A Henderson, NV. 89074 (702) 568-0899